A dramatic space for a busy office
Sovereign House, a busy office building built in the 1980s, has a footfall of 800 people per day. Ben Adams Architect were tasked with creating a renovation that would tolerate this heavy use, while looking impressive and appealing in the longer term.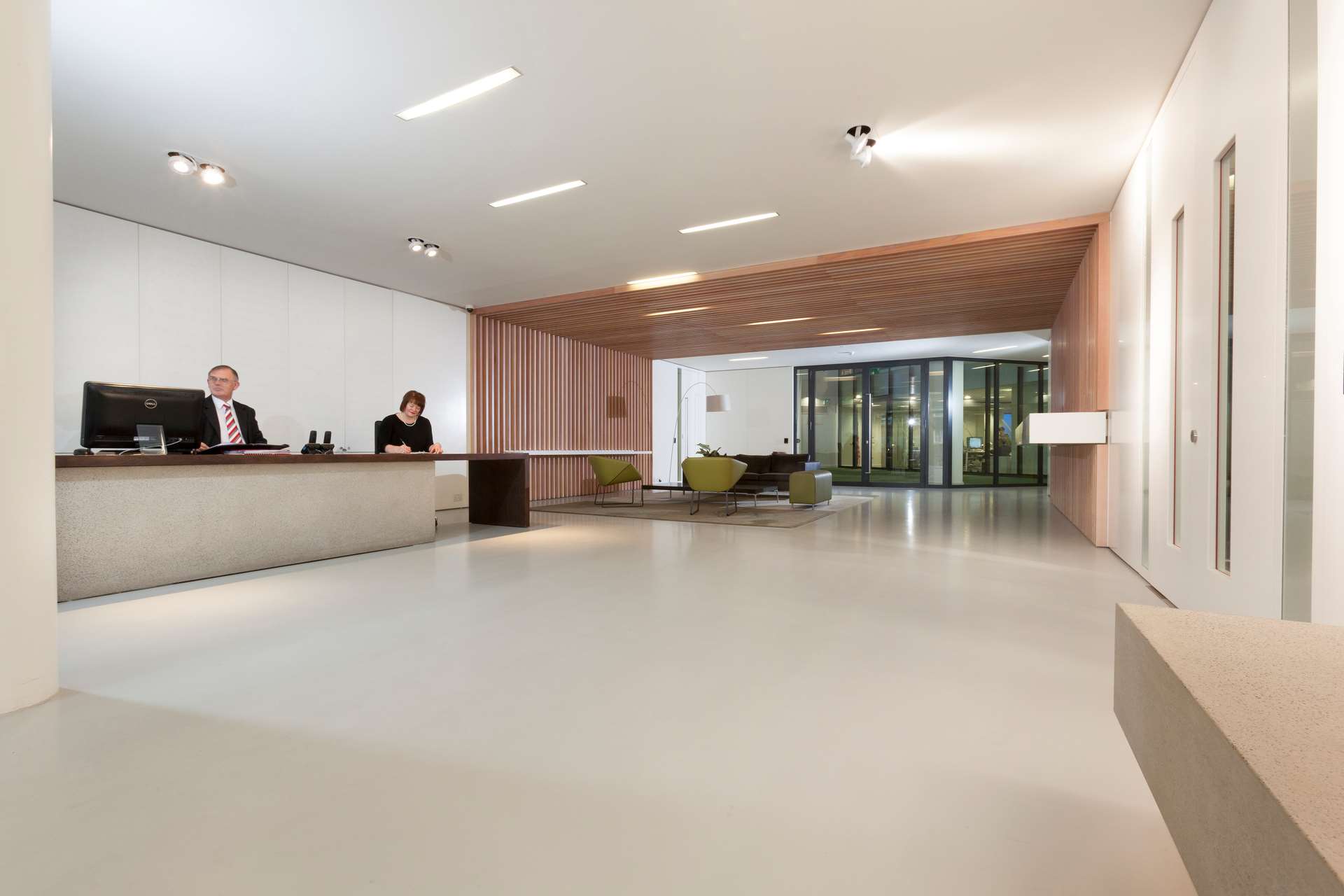 The front facade and reception areas of the building needed to be redesigned to create a welcoming and dramatic entrance, and to provide additional office spaces within the existing oversized and underused atrium.
Innovative Altro Flexiflow resin flooring in Doe, a light grey colour, was selected to provide a practical, yet visually appealing solution to a challenging space. Specifying flooring for the reception and ground floor atrium was a challenge because the entrance is on a diagonal, meaning that floor tiles wouldn't have worked.
Altro Flexiflow is tough, flexible and can withstand the kind of movement that other resin floors cannot. It's designed to recover from scuffs and knocks, so was the perfect choice for the day-to-day high traffic use in this Brighton office space.
Altro Flexiflow has the benefits of a standard resin, but in addition is flexible enough to move with your building. Day joints can be overlaid with it and it takes up building movement so can be applied over existing expansion joints, within certain tolerances (see website for details).
Altro Flexiflow is a polyurethane resin and couldn't be easier to install. It's self-smoothing, giving a seamless and uniform finish with uninterrupted lines, and can be laid over green concrete with Altro Proof™ damp-proof membrane, to speed up installation.
It features a PUR top coat for UV colour stability, durability and ease of cleaning, and is available in 27 pastel, solid and bright colours with an eggshell-like finish.