Invented by Altro, manufactured in the UK and Germany, and crafted with locally sourced materials, our
adhesive-free range
includes pattern and wood design options. 100% recyclable, Altro adhesive-free floors provide a lightweight, quick-to-install, cost-effective flooring solution. But how does it work?
With all Altro adhesive-free floors, no DPM or adhesive is required*. The floors have been developed to avoid needing a moisture barrier to subfloors. The nodes on the underside of the sheet create an airspace allowing the evaporation of water vapour from damp subfloors. The floor is secured in place with industrial-grade double-sided tape. Continue reading to learn more about Altro's adhesive-free ranges.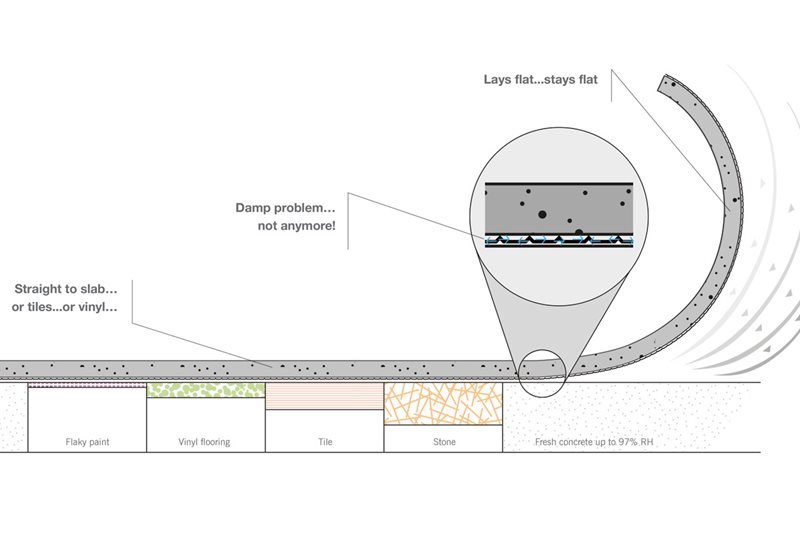 Can Altro adhesive-free floors be laid over existing tiles or vinyl floors?
Altro adhesive-free floors can be laid over existing sound substrates without applying adhesive. Its unique formulation allows the floor to lie flat and perform like a traditional adhered floor without an adhesive. With Altro adhesive-free, double-sided, moisture-tolerant tape, the floor edges and joints are secured in place while being installed, coved and welded.
How do Altro adhesive-free floors avoid needing a separate damp-proof membrane (DPM)?
The specially formulated studded underside emboss allows the flooring to sit off the subfloor, allowing the floor to breathe, resulting in any moisture dissipating. It can be used with a new concrete floor at up to 97% relative humidity. This technology gives you a natural, organic and environmentally friendly drying method for subfloors, which has been rigorously tested to ensure sufficient ventilation of the damp substrate.
How can I be confident that Altro adhesive-free floors won't move during use?
Our adhesive-free floors are durable and can tolerate medium to heavy-duty traffic. Altro adhesive-free floors hold as effectively as Altro floors installed using adhesive: no rucks, no movement. In fact, our award-winning Altro XpressLay has been tested with a 900kg drilling rig with caterpillar tracks, so a patient on a trolley will be no problem at all!
How can an Altro adhesive-free floor help in quicker fixes of snagging issues, including subfloor issues?
Adhered flooring uses contact adhesive, so to remove it, you could damage not just the subfloor but adjoining walls, too. An adhesive-free floor gives you no-fuss repairs and maintenance, with easy access to the subfloor, allowing you to identify and fix problems quickly. In the case of an adhered floor, if you have a leaking pipe you would need to repair both subfloor and wall, the bonded floor would need to be re-screeded and possibly have a surface DPM re-instated; this would not be required with an adhesive-free installation.
How can I reduce installation time by up to 50% when using Altro adhesive-free floors?
An adhesive-free floor installation can reduce installation time by up to 50% compared to an adhesive installation. For example (depending on substrate condition), a 200m² corridor would be laid in two days compared with four days with an adhered floor covering, with an approximate 20% cost saving.
Save time on floor preparation as the need to re-screed the floor or use a liquid DPM, mix epoxies and adhesives is removed, and you don't need to wait for the adhesive to cure before welding joints. By cutting installation time, you complete the project faster and save yourself and your client time and money. By reducing installation time, the floor can be installed and walked on the same day, and the client can have their busiest areas back to everyday use faster.
Which Altro floors are available as adhesive-free choices?
Launched in 2009, revolutionary, international award-winning Altro XpressLay was the world's first ever adhesive-free safety floor. It was introduced to the market after five years of development and testing.
Altro Wood adhesive-free
floor brings you a safety wood-look product with easy cleanability and 14dB impact sound reduction; perfect for decorative, homely or biophilic areas.
Altro Cantata
offers a range of colours and designs, with 14dB impact sound reduction and comfort underfoot.
What other benefits can Altro adhesive-free floors provide?
Saves up to 35% on installation costs.
Saves up to 50% CO2
Launched in 2009, so it's been tried and tested for nearly 15 years.
Has all the guarantees and lifetime slip resistance you expect from Altro.
Industry-leading 10-year product guarantee.
Design freedom with two safety and one smooth product line available.
With a commitment to design, practicality and sustainability, Altro's adhesive-free floors offer a unique opportunity to transform any spaces and contribute to a healthier planet.
To learn more, visit our adhesive-free guide.
*For installations in cold rooms that reach temperatures below -0°C, and on kitchen stairs, Altro Stronghold 30 adhesive-free must be fully adhered using a wet polymer adhesive. For more information, please refer to our technical installation guide.