"Thanks…for the amazing course Altro put on over the last couple of days. A two-day course that provided me and the guys with an in-depth understanding of Altro Whiterock installation. The aspect I loved most about this course was it catered to all levels of expertise with all the guys from experienced to beginner taking away something that will improve us as installers on future projects."
Ian Windsor, Managing Director, 360 Degree Flooring Ltd
It all started in a beehive!
What skills could you once learn in a beehive? Floor installation is actually the correct answer! A little-known fact is that the Altro training school started life in a beehive, of sorts. Originally located in a building called The Beehive in Welwyn Garden City, which later became a Beefeater restaurant, the training school relocated to Letchworth Garden City in 1989 and quickly started to spread its wings with an Altro walls training school in Lowestoft and an Altro resins training school in Maiden Newton.
One of only a small number of unique training facilities in the UK for floor and wall installers, the Altro training schools are designed to meet the training needs of floor and wall contractors from all over the world.

Our dedicated training schools have, to date, welcomed over 8000 floor and wall installers, with one record-breaking delegation of over 85 Danish flooring installers visiting from Denmark in 2019. The group attended hands-on floors and walls training sessions, giving them the chance to experience best practice when installing Altro Ensemble, our luxury vinyl tile, as well as our impact-resistant, grout-free and hygienic wall system Altro Whiterock. They also sat in on a presentation of the latest Danish requirements for vinyl flooring in wet rooms and toured our manufacturing facility.
So, what can our training schools offer you?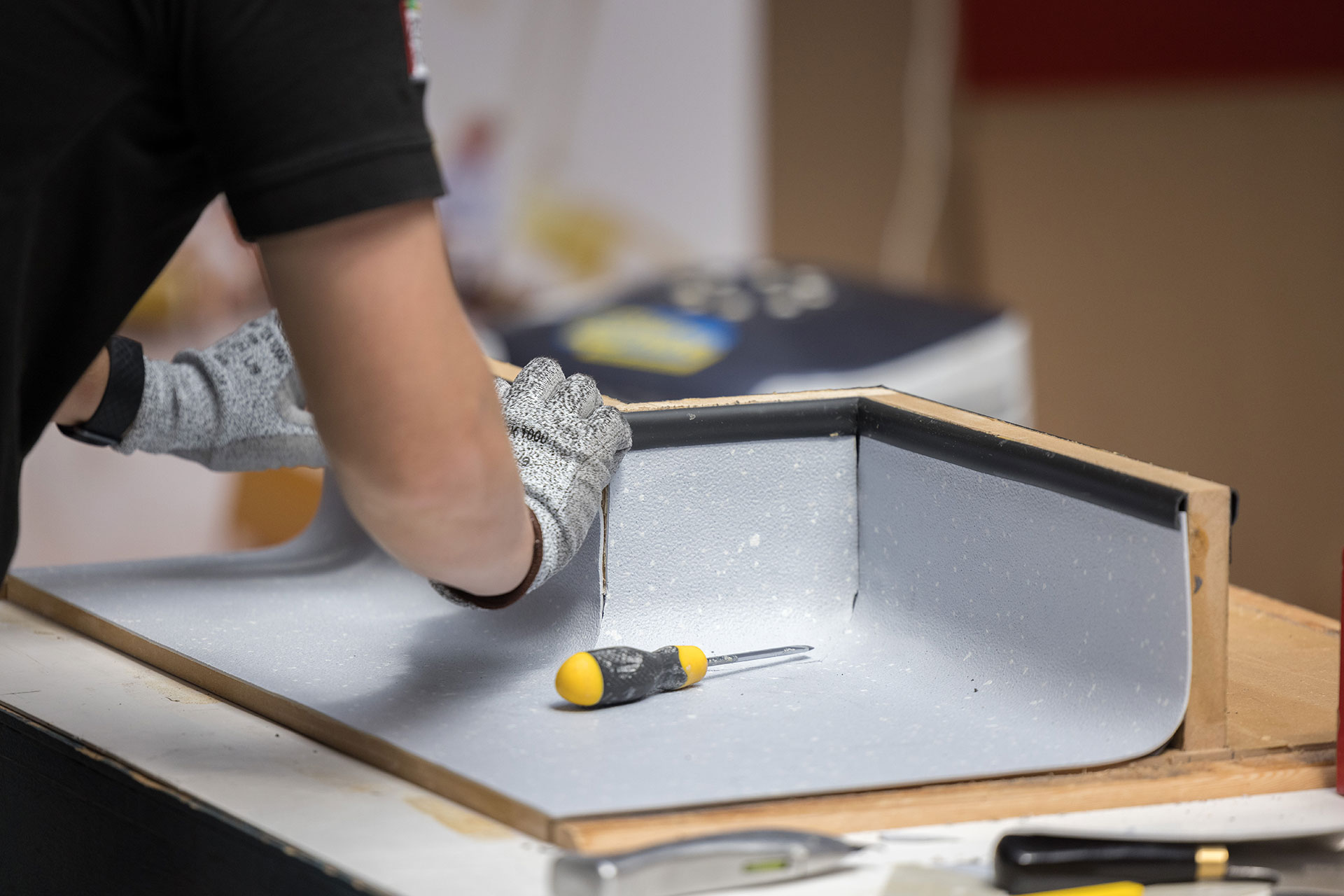 While we supply detailed installation guides for the majority of our products, they are no substitute for a real hands-on demonstration with one of our team, which is why we run four training schools to help you improve your installation skills: one for Altro safety floors, one for Altro modular flooring (LVTs), one for Altro resins and one for our Altro wall cladding systems.
Our in-house training will also show you how to install our products and provide extra little hints and tips that have been picked up by our experienced instructors over the years.
Our newest course, which launched in 2021, teaches you how to install Altro Ensemble luxury vinyl tiles (LVTs).

This two-day course will demonstrate our unique modular flooring system and attendees will learn the basic set out, standard and alternative installation methods while learning about the other benefits Altro Ensemble gives you. The topics covered on the course include:
subfloor floor preparation presentation
adhesive selection
product features and benefits
straight lay plank installation
45-degree plank installation
tile effect brick bond installation
tile effect with design strips installation
All training is provided by our hugely experienced training team, the A team (or Altro technical services team)!
Who are the A team?
Our Altro training school team have many years' experience in the trade having travelled far and wide to perfect their skills. Made up of a team of floor layers and Altro Whiterock installers, they have dealt with all the challenges you may face on a daily basis that can be part of a project.

They come with huge knowledge of the flooring and walling industry and have even discovered useful installation tools, such as the Xacto router handle, which was spotted in a model shop window in Manchester by a member of the technical services team, that are still being used to this day.
David Gatfield, who is one of our original trainers, celebrates over 50 years with Altro and said, "We now have a pool of up eight trainers with combined experience in the flooring and walling trade of over 200 years. Our floors trainers have over 150 years' experience between us - 54 of those years are mine, having started in the flooring trade aged 17 in 1969! This is why the Altro training schools are so unique – the experience is unparalleled."
What to expect on the day
A typical course in the training school would include:
a tour of the manufacturing site*
a brief history of Altro walls
an introduction to the product range including adhesives and accessories
application requirements
choosing the correct product
hands-on training
debrief and questions
*available once COVID-19 restrictions are lifted
In 2021 the Altro safety floors training school received a fantastic refurbishment, providing updated facilities and a lighter, brighter environment for training to take place. All our training schools have facilities for 'hands on' training with a break-out area, lunch provided and free on-site parking. We deliver courses throughout the year and due to popular demand, early booking is recommended!

What courses are available?
Our Altro team can provide you with workshops on:
Roger Moore, EU Technical Services Manager said,
"Installing flooring and wall cladding is a real skill and myself and the technical services team are committed to playing our part in training fitters. This includes the latest techniques to enable them to achieve high standards of installation resulting in a fantastic finish".
To ask about our courses, including available dates and prices, click here.
Training support
While you're waiting for your course, or if you've attended but would like more information, or a reminder on particular aspects, we have an array of support as follows:
Our technical information
Installation guides and technical data sheets are all available in the tech docs section, but if you need to talk through any technical issue, please call our dedicated technical hotline on 01462 489516.
Our video hints and tips
Available through our video gallery or via YouTube our collection of videos are there to help you with your installations.
If there is any technical challenge that you would like to see featured in our video clips, please get in touch via enquiries@altro.com.
Toolbox talks
Informal 'Toolbox Talks' can also be organised, and these give us the chance to share our experience and best practice, including rolling our sleeves up and getting stuck in with practical tutorials on floor welding and thermoforming Altro Whiterock. They also cover installation guidance, our products; which suit what installations, adhesives; which to use when, snagging; what to look out for and how to deal with it, subfloor prep, and specification writing. All our Altro toolbox talks can be organised with your Altro consultant, by giving us a call on 01462 489516 or e-mail us at enquiries@altro.com.