Unlike tiles, our specialist kitchens system can be installed quickly and create a hygienic joint between surfaces to prevent build-up of bacteria, mould and dirt. They provide an impervious surface leaving no gaps for vermin to hide.
Altro Whiterock wall sheets have the CE mark and comply with all European health, safety, and environmental protection standards. Altro Whiterock is also impact-resistant, making it more resilient than tiles and preventing damage that can harbour bacteria that can get into food. Grout-free and with a guarantee of 20 years with AltroFix W139 moisture-tolerant adhesive, Altro Whiterock can be hot welded for a joint-free installation.
Our floors and walls solution for kitchens is Hazard Analysis and Critical Control Points approved, meaning it is safe for food environments including commercial kitchens. Our surfaces are so tough they can be power washed and have excellent resistance against typical cleaning chemicals. So when you have a clean kitchen, you have a safe kitchen.
HACCP is an international system for food safety management. It is a legal requirement in Europe under EC Regulation 852/2004. HACCP requires a risk assessment for every food preparation area identifying "critical points" where food safety hazards could arise. Hazards include contamination by staff or poorly maintained fittings or equipment / chemical, physical or allergenic risks, caused by ingredients, handling, equipment or fittings, including floors and walls.
Altro products are one of the few worldwide floors, walls and door products to have achieved HACCP International certification. We test our product in-situ, and have worked with customers, designers and installers for years, so we can provide you with the highest standard system on the market.
Altro Stronghold 30 keeps staff safe, with Altro's highest slip-resistant rating of (PTV >55, R12) even with common kitchen contaminants such as grease, oil and flour, reducing your chance of a slip to one in a million for the lifetime of the floor. With 3mm comfort underfoot and 10dB impact sound insulation, it makes busy and noisy kitchen environments more comfortable for staff.
Safety and hygiene issues don't end in the kitchen. Throughout the back of house, you need robust solutions that exceed safety and hygiene standards to keep staff and customers safe. Our heavy duty range, including Altro Reliance 25, Altro Classic 25 and Altro Atlas 40 provides extra resilience underfoot for corridors and storage areas, and can handle heavy wheeled traffic.
For staff changing areas, we provide extra protection with our specialist wet environments floors, Altro Aquarius and Altro Pisces. In shoes and barefeet, staff will be safe even with spills of soap and shower gel. They have a PTV ≥50 (Slider 96) and R11 rating, providing the best protection on the market.
From a small café to a large restaurant with over 100 covers, all kitchens have to deal with contaminants. Our specialist safety floor, hygienic wall sheet system and hygienic doorsets provides an impervious, easy to clean and safe solution for kitchen environments that is Hazard Analysis and Critical Control Points (HACCP) approved and meets HSE standards. Our system doesn't just protect the people who use it; it also protects the environment and those responsible for the health and safety of employees and visitors.
Our products have industry-leading guarantees; our kitchen solution of Altro Stronghold 30 and Altro Whiterock means you benefit from products with up to a 30 year guarantee and a 25 year life expectancy.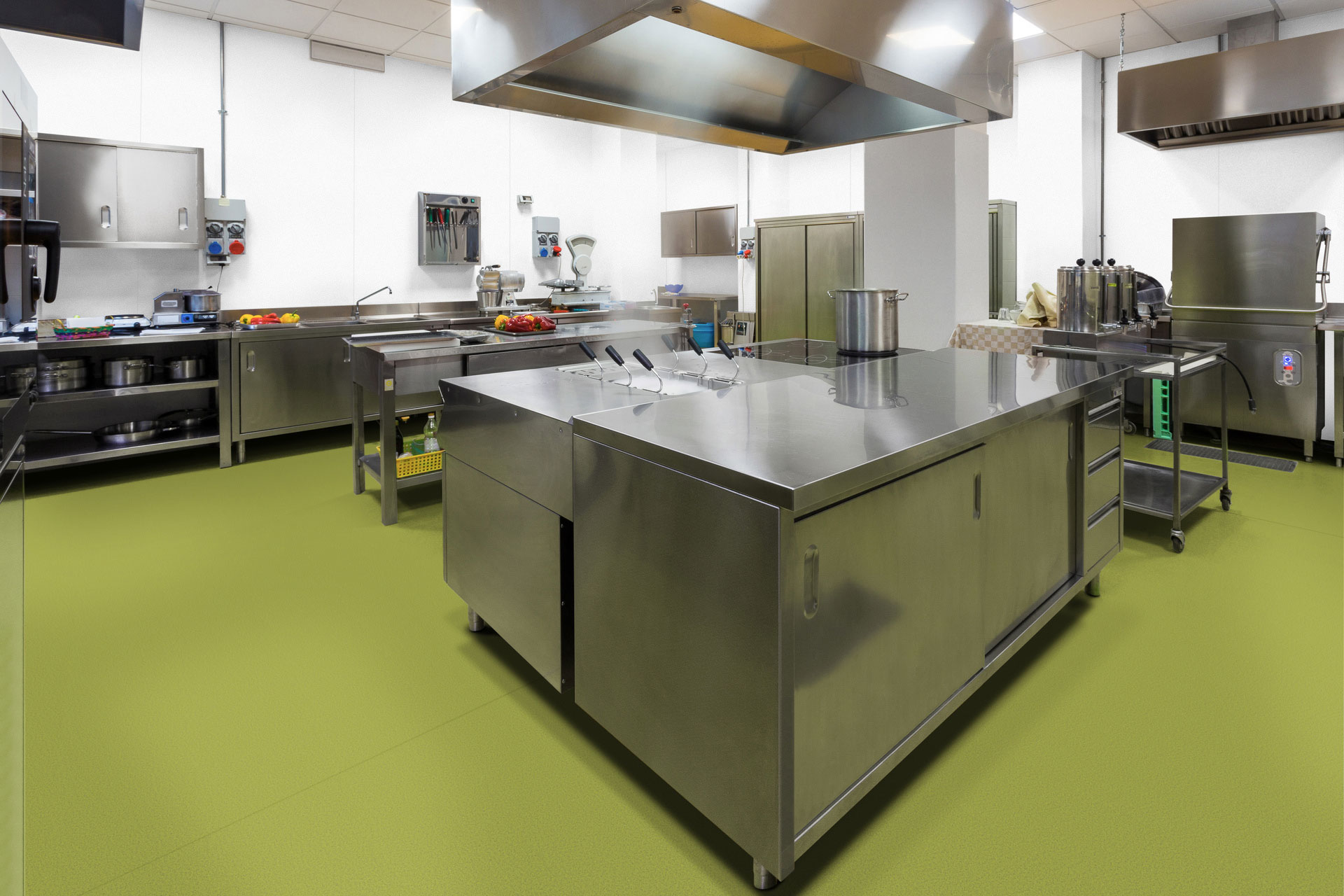 Altro Whiterock White™
Proven, high performance, hygienic alternative to ceramic tiles
Discover more