Passengers on longer journeys expect a meaningful travel experience. Everything from the look of the vehicle interior, to how it functions, to how well maintained it is, contributes to the passenger's perception of rail travel – and ultimately if, next time they take a journey, they choose to leave their private car at home.
Altro's rail floors portfolio is specifically developed to bring wide functionality to intercity and high speed rail applications, supporting and facilitating a wide range of configurations. Use the tabs on the right hand side of the page to find out more.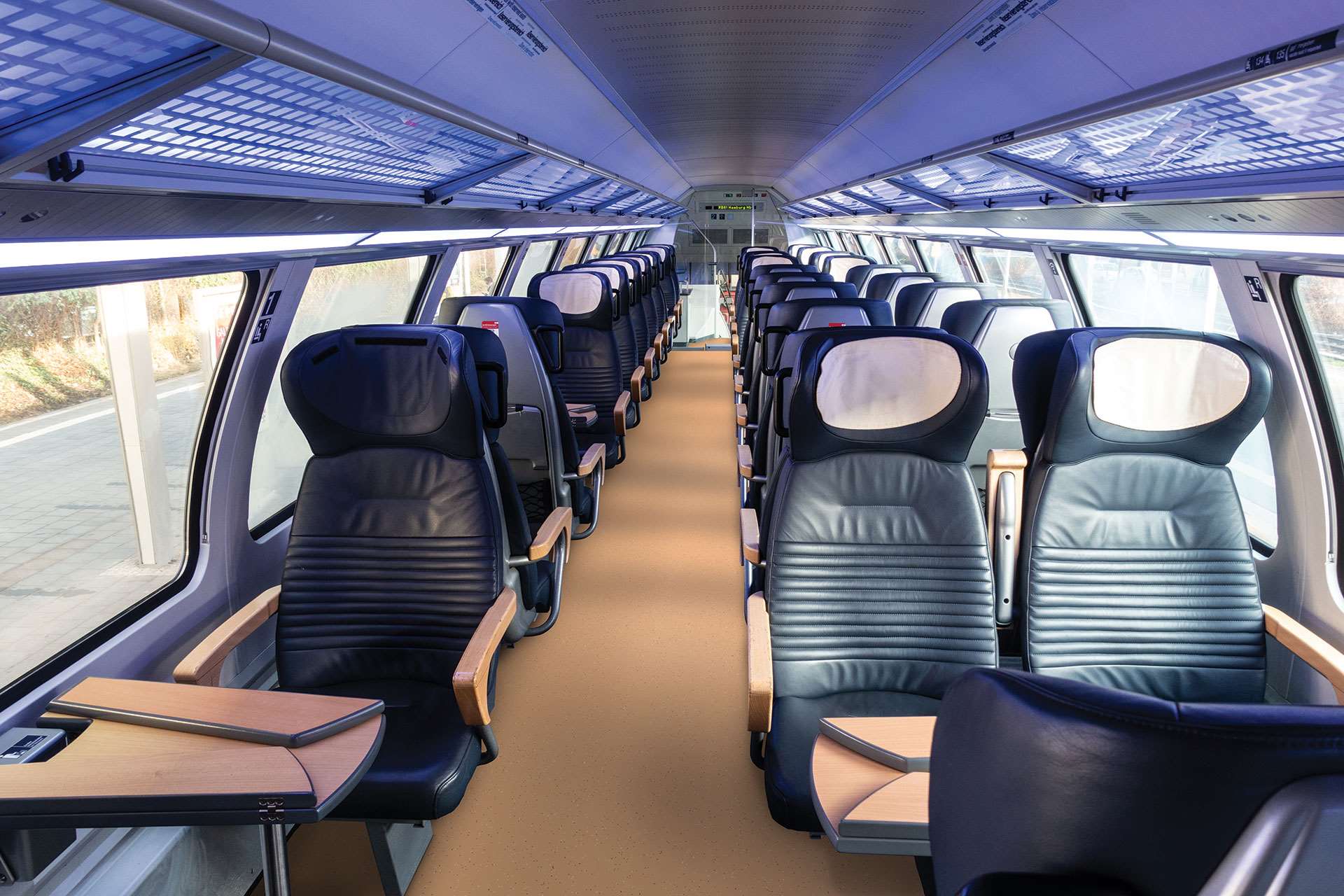 The eco-credentials of travelling by train are one of the biggest selling points for rail travel. Altro rail floors are especially engineered to enable greater fuel efficiency and therefore lower lifecycle costs for rolling stock, and facilitate the move to decarbonized rail services.
The acrylic which makes up Altro Transflor Tungsten is an incredibly tough, lightweight material which gives robust, resilient performance without compromising by adding excess weight to your vehicle construction.
All Altro rail floors are engineered to be as lightweight as possible, without compromising on key performance attributes such as slip resistance, durability, or ease of maintenance.
If you're looking for a fast, lightweight installation, discover our Self-adhesive flooring service. Save up to an extra 60% on adhesive weight per square yard, and completely eliminate adhesive application and curing time from your installation process. Simply trim your flooring to fit, then peel, stick, roll, weld and walk. To save even more time, explore our pre-cut flooring service to receive your flooring order pre-cut to specification.
Successful long distance rail designs capture the emotion of the passengers traveling and take the journey from a trip from A to B to an all-encompassing travel experience. Whether your interior design objective is to capture the excitement of a leisure journey, reflect the essence and feel of a region, or creating a comfortable extension of passengers' working days, Altro floors are intelligently developed to fulfill these aims.
When designing our floors, we also think carefully about trends in rail design and how our floors can help facilitate the use of new design ideas. Often, the floor plays a supporting role in the vehicle whole, and we know that this isn't just visually, but in performance, too. With a growing demand for interior modularity, we engineer our floors with the resilience to stand up to the wear and stress that changing layouts can put on floors.
Another key way of ensuring that passengers enjoy a positive travel experience is to implement clear, universal wayfinding signage. With Altro's logo service, you have the power to cut any logo, whether standard or custom, into our floors. We explored this concept in the 2019 Porterbrook Innovation Hub, showing how clear wayfinding can be incorporated into a stylish and forward-thinking vehicle design.
Here at Altro, we understand that designing rail cars is as much about performance as it is about aesthetics. Floors need to look good, but also keep passengers safe from slips, trips and falls. Particularly in entrance vestibules or buffet cars, where foot traffic will be higher – and possibly passengers will be distracted, carrying food or luggage and thinking about things other than where they're putting their feet – a floor with good slip resistance is key.
Altro Transflor Tungsten achieves a Pendulum Test Value of ≥36, meaning that there is less than a one in a million chance of anyone suffering a slip, even when wet contaminants are present. This means that's if a drink is spilled in the restaurant car, water is tracked in from outside, or residual water is left from cleaning, your staff and passengers will be protected from slips.
Whether it's a hot drink and a breakfast roll to start the commute off properly, a pre-holiday celebratory cocktail, or just water and dirt tracked into the carriage on the bottom of passengers' shoes, floors on intercity rail services can come into contact with a lot of different contaminants. By nature, our resilient floors for rail are hygienic in their non-porous construction. Unlike fibrous floor coverings, like carpet, with our resilient floors dirt and bacteria cannot be trapped between porous fibers where they can proliferate, but can be easily lifted, cleaned, and neutralized to keep your staff and passengers safe and ensure a pleasant travel environment.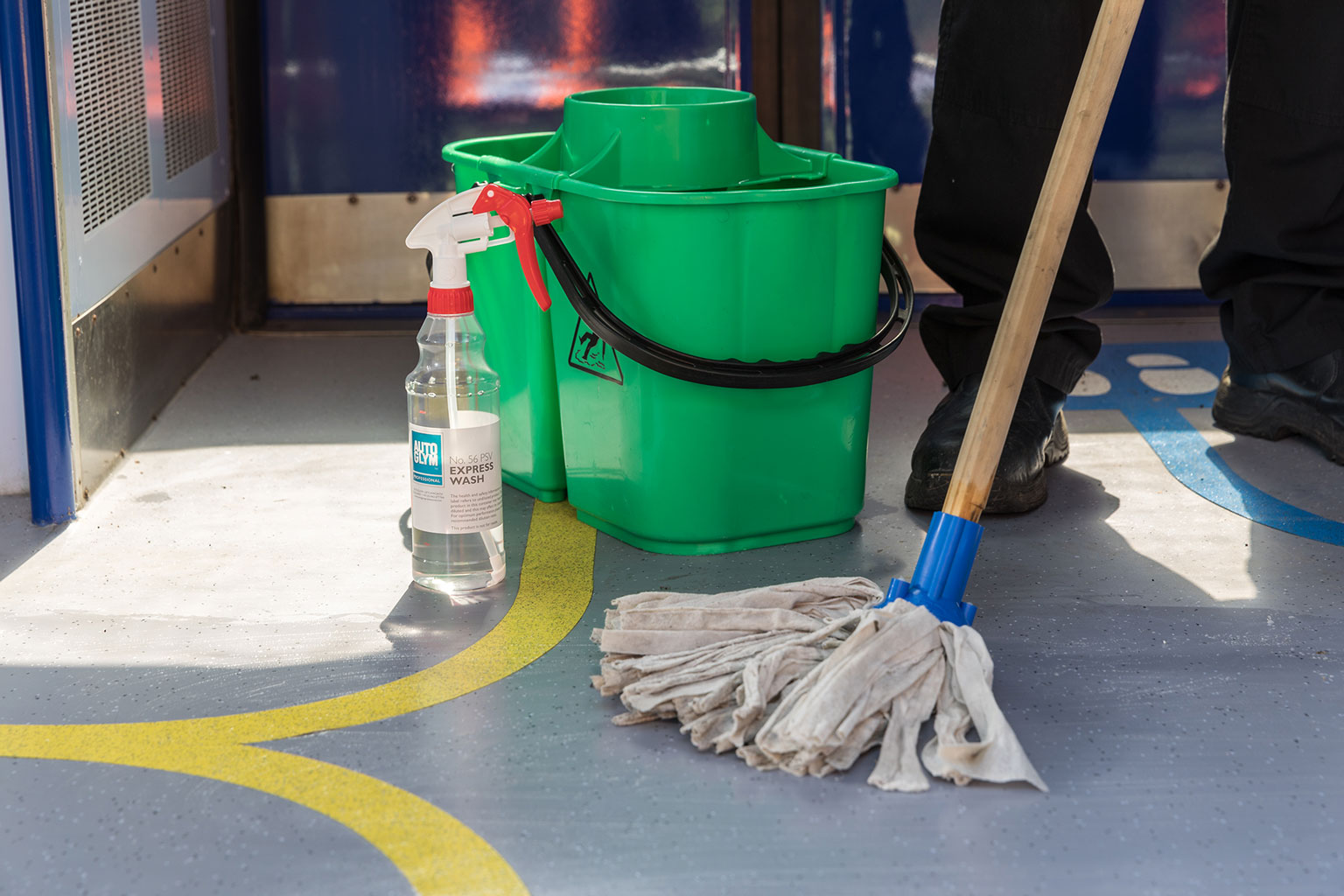 Find out more about how Altro Transflor Tungsten clean up on busy services.